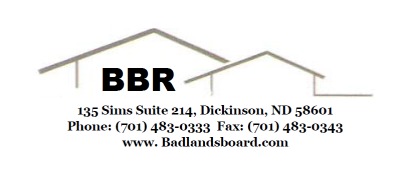 Welcome to the Badlands Board of REALTORS website! The Badlands Board of REALTORS is here to serve the needs of both consumers and REALTORS in Dickinson, Williston and all of Western North Dakota.

For Consumers, you can search for a REALTOR, a list can be found under "Find an Agent". You can also access our MLS through "Search the MLS" or look for upcoming open houses by clicking the "Open House" link. All of these links and more information can be found on the menu to the left. Please feel free to contact any of our members as they can provide you with detailed information and resources.


Mission Statement
We exist to help our members be more successful in real estate.

Vision Statement
To unite those engaged in the real estate profession in Western North Dakota, with the North Dakota Association of REALTORS and the National Association of REALTORS.